Saturday, May 15, 2021
4:00pm ET
2021 graduates, with their families and friends, can celebrate their graduation virtually.
When it is safe to do so, the university will host in-person celebrations on the National Mall to honor the Class of 2021 and the Class of 2020, with each class enjoying its own, curated celebration.
The celebration has concluded. Watch the celebration here or on YouTube.
Watch the Celebration on YouTube

Graduation Celebration
Welcome: Barbara Bass, MD

Barbara Bass, MD: Vice President for Health Affairs, Dean of the School of Medicine and Health Sciences, Chief Executive Officer, the GW Medical Faculty Associates

Recognizing the Class of 2021: Reamer Bushardt, PharmD, PA-C, DFAAPA

Reamer Bushardt, PharmD, PA-C, DFAAPA: Senior Associate Dean for Health Sciences, Professor

Ozgur Ekmekci Interprofessional Leadership Award Presentation: Karen Schlumpf, MPH

Online Program Recipient: Casey Regnier, MSHS, Physician Assistant

Campus Program Recipient: Kenly Morgenstern, MSHS, Healthcare Quality

Award presented by Karen Schlumpf, MPH: Director of the Health Sciences Research Core Curriculum

Outstanding Undergraduate Student Award Presentation: Geoffrey Shapiro and Andrew Garrett, MD, MPH, FAEMS, FAAP

Award Winner: Ricky Ditzel, BSHS, Leadership for Emergency Action & Disaster Response

Ricky Ditzel is 26 years old and from Ft. Lauderdale Florida where he grew up with his mother, older brother Johnny, and older sister Alexis. Ricky is a Veteran having served in the U.S Army from 2013-2020 with his final 4 being within the Special Operations community. While on active duty Ricky graduated from George Washington University with a Bachelors of Science in Health Science in Leadership for Emergency Action and Disaster Response/Management (LEADR). He is now a Columbia University Premedical Postbaccalaureate student set to graduate in 2022. When he is not in school, Ricky engages and promotes evidence based medical research by serving as the Director of Research and Education for the Special Operations Medic Coalition (SOM+C). Ricky also volunteers as a pre-hospital military advisor for the Uniformed Services University's Center for Neuroscience and Regenerative Medicine (CNRM), an end user advisor for the Committee on Surgical Combat Casualty Care, and an editor for the Journal of Special Operations Medicine. Ricky enjoys listening to podcasts, lifting weights, and watching the Philadelphia Eagles play football.

Award presented by Geoffrey Shapiro: Director, EMS & Operational Medicine Training and Andrew Garrett, MD: Associate Professor and Program Director for Emergency Health Operations

Outstanding Graduate Award Presentation: Maranda C. Ward, EdD, MPH

Award Winner: Heather Yoho, MSHS, Clinical & Translational Research

Heather Yoho is graduating with her Master of Health Sciences at The George Washington University (GW), where she has completed the Clinical and Translational Research Program. She will be graduating Summa cum laude. Through her academic standing, Heather has been inducted into The National Society of Leadership and Success and Golden Key International Honour Society, along with being nominated for membership into Alpha Eta Honor Society. Outside of the classroom, Heather was one of the Founding Members of the Clinical and Translational Research Student Organization (CTRSO), as well as an inaugural CTRSO officer. Heather's research knowledge and experience is showcased as she works as a research activist, being a part of CORE HEALTH, a multidisciplinary student research lab at GW extending aims of the Antiracism Coalition. She serves as research assistant for a social and behavioral research project on health equity knowledge baseline across health profession training programs. Through the research efforts on the health equity study, she presented her work to a broad campus audience at GW Research Showcase and has contributed on abstracts and manuscripts for conferences and publications, respectively. Her research interests include clinical research with applications towards health disparities and health equity, as she embarks on her career as a Clinical Research Activist. Upon graduation from GW, she plans on taking her knowledge and expertise gained to serve in a position of leadership within the research realm, to translate health sciences research into policy change, improving the health outcomes for minority populations at the community level.

Award presented by Maranda C. Ward, EdD, MPH: Assistant Professor, Department of Clinical Research and Leadership

Presentation of Diplomas

Marcia Firmani, PhD, MSPH, MT(ASCP)MBCM: Chair, Department of Biomedical Laboratory Sciences

Leslie Davidson, PhD, OT/L, FAOTA: Chair, Department of Clinical Research and Leadership

Joyce Maring, EdD, DPT: Chair, Department of Health, Human Function, and Rehabilitation Sciences

Tamara Ritsema, PhD, MPH, PA-C/R: Interim Chair, Department of Physician Assistant Studies

Graduate names will be read alphabetically by degree and program.

Recitation of Oath: Krystal Smith, DPT, Class of 2021

The Pledge

I will lead my life and practice my profession with integrity and compassion, treating each individual I see with dignity and respect.

I promise to comfort, care, and work toward curing the sick and disabled and will strive to promote the health and well-being of all the people for whom I care.

I will work for the benefit of, and avoid harm to, the individuals I serve and those who are my colleagues; and even if directed, I will do nothing that I believe could harm my patient.

I will use my knowledge and skill to serve all individuals, regardless of race, gender, religion, disease, or social status.

I will respect the privacy of every person and will hold confidential all information about patients for whom I care.

I pledge to continue to learn and grow in my profession and continually seek to gain new knowledge.

I will constantly strive to contribute to my profession through teaching others who can benefit from my knowledge.

I promise to pursue each of the tenets of this pledge with strength and courage, to the utmost of my power.

Charge to Graduates: Kevin O'Connor, DO and Lorenzo Norris, MD

Kevin O'Connor, DO: Associate Professor of Medicine, Senior Medical Advisor, Health Sciences Programs Physician to the President

Lorenzo Norris, MD: Associate Dean for Student Affairs & Administration, Associate Professor of Psychiatry & Behavioral Sciences
Celebration will run approximately 90 minutes.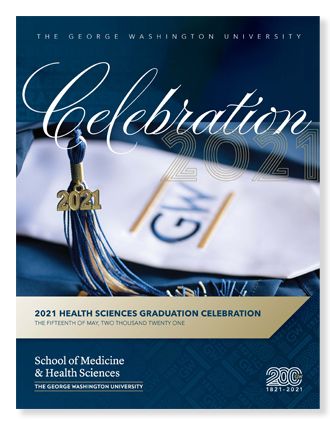 Download the 2021 Health Sciences Celebration Program to view digitally or print at home and follow along during the ceremony.
Introducing the Corcoran Mentored Scholarship Award

Health Sciences Departments: Celebration Information
Each department will hold their own recognition or award celebration, please use the link below to go to your department.