White Coat Celebration
Friday, May 14, 2021
4:30pm ET
2021 graduates, with their families and friends, can celebrate their graduation virtually.
When it is safe to do so, the university will host in-person celebrations on the National Mall to honor the Class of 2021 and the Class of 2020, with each class enjoying its own, curated celebration.
The live celebration has concluded. Watch the celebration above or on YouTube.
Watch the Celebration on YouTube

Celebration Program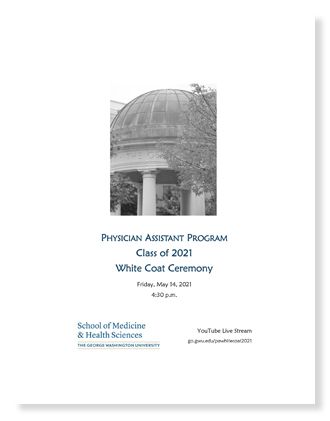 Download the 2021 Physician Assistant Program White Coat Ceremony program to view digitally or print at home and follow along during the ceremony.

Class of 2021
GW ALMA MATER
Hail Alma Mater
To thy spirit guiding,
Knowledge thy closest friend
In its strength abiding,
Pledge we fidelity
Ne'er its place resigning,
Hail thee George Washington!