Sunday, May 21, 2023
MD Celebration, Lisner Auditorium to begin at 3:00pm ET
Watch the celebration above or on YouTube.
Watch the celebration on YouTube
Keynote Speaker
Keynote Speaker: Edward M. Barksdale, MD, FACS, FAAS

The GW School of Medicine and Health Sciences is pleased to announce that Edward M. Barksdale, MD, FACS, FAAS, surgeon in chief, University Hospitals Rainbow Babies & Children's Hospital will be the keynote speaker for the 2023 GW MD Graduation and Diploma Ceremony on May 21, 2023, in Lisner Auditorium.

Barksdale also serves as the division chief of pediatric general and thoracic surgery, vice chair of the Department of Pediatric Surgery at University Hospitals Rainbow Babies & Children's Hospital, Robert J. Izant Jr., MD, Endowed Chair, and professor at Case Western Reserve University School of Medicine.

"Dr. Barksdale is an internationally acclaimed leader in academic surgery, and a pillar of each community he serves. In the Cleveland and UH Rainbow community, he is a beloved and respected leader, a highly skilled surgeon, and tireless advocate for his pediatric patients and the teens in the city. Among surgical colleagues, he is a trusted leader and adviser, a beloved educator and trainer, and a highly respected clinician who has advanced care for pediatric patients with the most complex and challenging conditions, while also advancing the careers of others with mentorship and hope. I am grateful to Dr. Barksdale for serving as our keynote. I know that our MD graduates will be inspired by his message at a most memorable time in their journeys to becoming physicians," said Barbara Lee Bass, MD, FACS, professor of surgery, Walter A. Bloedorn Chair of Administrative Medicine, vice president for health affairs, dean, GW School of Medicine and Health Sciences, and CEO, The GW Medical Faculty Associates.

As a nationally recognized leader in pediatric surgery, notably the management of short bowel syndrome/intestinal failure and the immunobiology of neuroblastoma, he is a passionate advocate for children's health care. In addition to Barksdale's surgical expertise, he is also known for his extensive community service in child welfare, violence prevention, and health disparities. In 2018, Barksdale launched a hospital-based violence intervention program for teens called the Antifragility Initiative, which aims to reduce recidivism, prevent adverse outcomes, and improve overall patient wellbeing.

Before joining the faculty at UH Rainbow, Barksdale worked at Children's Hospital of Pittsburgh. A frequent lecturer in pediatric intestinal failure, he was the co-founder of the first center to provide coordinated care and intestinal transplantation for children with intestinal failure. 

Dr. Barksdale has earned numerous awards and accolades over the course of his career. These include being named one of both the Best Doctors in America and Cleveland Magazine's Best Doctors for the past 13 years, Patients' Choice Award, Who's Who in Black Cleveland, and one of the Top Influential Black Doctors by Savoy Magazine. Additionally, Dr. Barksdale was included in the Inaugural Academy of Distinguished Clinicians at University Hospitals. He was also an elected member to the American College of Surgeons Academy of Master Educators.

Barksdale is a member of many prestigious professional societies and served a one-year term (2022/23) as the president of the American Pediatric Surgical Association. Other memberships include the American Surgical Association, National Medical Association, Society of University Surgeons, American Academy of Pediatrics, and the Society of Black Academic Surgeons.

Barksdale received his undergraduate degree from Yale University, where he was also an NCAA All-American fencer. He earned his medical degree from Harvard Medical School and trained in general surgery at Massachusetts General Hospital (MGH).

He held his first faculty position at the University of Pittsburgh and Children's Hospital of Pittsburgh where he rose from Assistant Professor to Professor of Surgery with tenure. Barksdale was the first African American selected to serve as the prestigious Chief of the West Surgery Service at MGH. He completed clinical fellowship training in pediatric surgery at Children's Hospital Medical Center in Cincinnati.

Oath of Hippocrates

"I do solemnly swear by that which I hold most sacred:

That I will be loyal to the profession of medicine and just and generous to its members;

That I will lead my life and practice my art in uprightness and honor;

That into whatsoever house I shall enter, it shall be for the good of the sick to the utmost of my power, I, holding myself aloof from wrong, from corruption, from the tempting of others to vice;

That I will exercise my art solely for the care of my patients, and will give no drug, perform no operation for a criminal purpose, even if solicited, far less suggest it;

That whatsoever I shall see or hear of the lives of people, which is not fitting to be spoken, I will keep inviolably secret.

These things I do promise and in proportion as I am faithful to this my oath may happiness and good repute be ever mine — the opposite if I shall be forsworn."

 

Celebration Program
2023 MD Commencement Celebration Program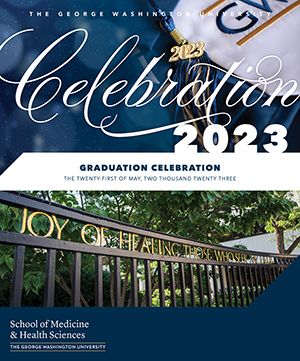 Download the 2023 MD Commencement Celebration Program to view digitally or print at home and follow along during the ceremony.
GW ALMA MATER
Hail Alma Mater
To thy spirit guiding,
Knowledge thy closest friend
In its strength abiding,
Pledge we fidelity
Ne'er its place resigning,
Hail thee George Washington!