Sunday, May 16, 2021
Pre-Show Celebration at 2:00pm ET
MD Celebration to begin at 2:30pm ET
2021 graduates, with their families and friends, can celebrate their graduation virtually.
When it is safe to do so, the university will host in-person celebrations on the National Mall to honor the Class of 2021 and the Class of 2020, with each class enjoying its own, curated celebration.
Watch the celebration above or on YouTube.
Keynote Speaker
Keynote Speaker: Luciana Borio, MD '96

Luciana Borio, MD '96, will serve as the keynote speaker at the George Washington University's (GW) 2021 MD Diploma Ceremony, held on Sunday, May 16, at 2:30 p.m. The event will be held virtually.

Borio is currently a senior vice-president at In-Q-Tel, an independent strategic investment firm that focuses on technology and supports the mission of the United States intelligence community. She is also a practicing infectious disease physician at Johns Hopkins Hospital in Baltimore, Maryland, and a senior fellow for global health at the Council on Foreign Relations, where she recently served on its Independent Task Force on Improving Pandemic Preparedness. In November 2020, U.S. President-elect Joe Biden named Borio to be one of the 13 members of his COVID-19 Transition Advisory Board. Brazilian-born, she was a 2020 Great Immigrants Recipient by the Carnegie Corporation of New York for her notable contributions to the progress of American society.

Previously, Borio served as the director for medical and biodefense preparedness policy at the National Security Council (NSC) and served as a member of the NSC's pandemic response team. In 2018, Borio warned that influenza "represents both a health security and a national security threat" for which the United States was unprepared to "respond with the speed that we need to." Borio helped initiate the U.S. government's National Influenza Vaccine Modernization Strategy 2020–2030, published in 2020.

Borio joined the U.S. Food and Drug Administration (FDA) in 2008 as a medical officer. From 2015 to 2017, her FDA posts included assistant commissioner for counterterrorism and emerging threats and acting chief scientist. Borio was vital to developing and executing the agency's medical countermeasures and public health responses to the 2009–10 H1N1 flu pandemic, the 2014–16 Ebola outbreak, and the 2015–16 Zika outbreak. Before leaving her role as acting chief scientist of the FDA, she approved a partnership in infectious disease research with the Bill & Melinda Gates Foundation.

She earned her medical degree from the GW School of Medicine and Health Sciences in 1996. Borio completed her residency at NewYork-Presbyterian/Weill Cornell Medical Center, going on to complete a combined fellowship in infectious diseases at Johns Hopkins University and critical care medicine at the National Institutes of Health.

"We are thrilled to have Dr. Borio join us for our MD Diploma Ceremony. Her work has been instrumental in the fight against COVID-19 and she has a firsthand perspective of the pandemic that many others may not have. She is a wonderful example of a GW School of Medicine and Health Sciences alumna who is making a significant difference in the world, and our graduates will benefit from learning about her personal journey as a physician and her professional journey being front and center on the largest global health crisis of our time," said Barbara L. Bass, MD, RESD '86, vice president for health affairs, dean of the GW School of Medicine and Health Sciences, and CEO of the GW Medical Faculty Associates.

Oath of Hippocrates

"I do solemnly swear by that which I hold most sacred:

That I will be loyal to the profession of medicine and just and generous to its members;

That I will lead my life and practice my art in uprightness and honor;

That into whatsoever house I shall enter, it shall be for the good of the sick to the utmost of my power, I, holding myself aloof from wrong, from corruption, from the tempting of others to vice;

That I will exercise my art solely for the care of my patients, and will give no drug, perform no operation for a criminal purpose, even if solicited, far less suggest it;

That whatsoever I shall see or hear of the lives of people, which is not fitting to be spoken, I will keep inviolably secret.

These things I do promise and in proportion as I am faithful to this my oath may happiness and good repute be ever mine — the opposite if I shall be forsworn."

 

Celebration Program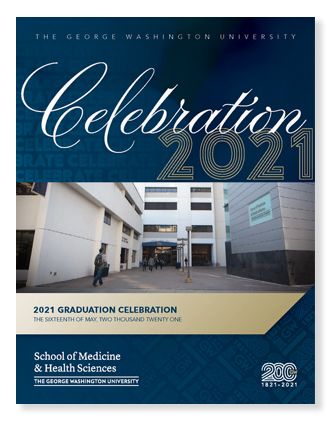 Download the 2021 MD Commencement Celebration Program to view digitally or print at home and follow along during the ceremony.
GW ALMA MATER
Hail Alma Mater
To thy spirit guiding,
Knowledge thy closest friend
In its strength abiding,
Pledge we fidelity
Ne'er its place resigning,
Hail thee George Washington!