Saturday, May 14, 2022
Health Sciences Celebration to begin at 4:00pm ET

Graduation Celebration
Welcome: Barbara Bass, MD

Barbara Bass, MD: Vice President for Health Affairs, Dean of the School of Medicine and Health Sciences, Chief Executive Officer, the GW Medical Faculty Associates

Recognizing the Class of 2022: Reamer Bushardt, PharmD, PA-C, DFAAPA

Reamer Bushardt, PharmD, PA-C, DFAAPA: Senior Associate Dean for Health Sciences, Professor

Ozgur Ekmekci Interprofessional Leadership Award Presentation: Karen Schlumpf, MPH

Online Program Recipient
Yvonne Rodriguez, MSHS
Clinical Research Administration

Campus Program Recipient
Edith Teng MSHS
Physician Assistant

Outstanding Undergraduate Student Award Presentation: Clifford Cymrott, MLS, MT, MHA

Alexandra Davis, BSHS
Medical Laboratory Sciences

Outstanding Graduate Award Presentation: Samar Nasser, PhD

Wencesley A. Paez, MD., M.S.H.S.
Clinical & Translational Research

Presentation of Diplomas

Marcia Firmani, PhD, MSPH, MT(ASCP)MBCM: Chair, Department of Biomedical Laboratory Sciences

Leslie Davidson, PhD, OT/L, FAOTA: Chair, Department of Clinical Research and Leadership

Joyce Maring, EdD, DPT: Chair, Department of Health, Human Function, and Rehabilitation Sciences

Mary L. Warner, DBH, PA-C: Interim Chair, Department of Physician Assistant Studies

Recitation of Oath: Rachel Wilcox, DPT, (Doctor of Physical Therapy Class of 2022)

The Pledge

I will lead my life and practice my profession with integrity and compassion, treating each individual I see with dignity and respect.

I promise to comfort, care, and work toward curing the sick and disabled and will strive to promote the health and well-being of all the people for whom I care.

I will work for the benefit of, and avoid harm to, the individuals I serve and those who are my colleagues; and even if directed, I will do nothing that I believe could harm my patient.

I will use my knowledge and skill to serve all individuals, regardless of race, gender, religion, disease, or social status.

I will respect the privacy of every person and will hold confidential all information about patients for whom I care.

I pledge to continue to learn and grow in my profession and continually seek to gain new knowledge.

I will constantly strive to contribute to my profession through teaching others who can benefit from my knowledge.

I promise to pursue each of the tenets of this pledge with strength and courage, to the utmost of my power.

Charge to Graduates: Reamer L. Bushardt, PhamD, PA-C, DFAAPA

Reamer Bushardt, PharmD, PA-C, DFAAPA: Senior Associate Dean for Health Sciences, Professor
Celebration Program
2022 Health Sciences Celebration Program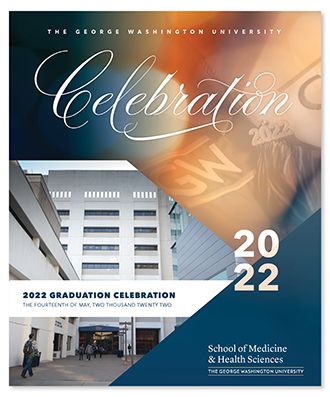 Download the 2022 Health Sciences Celebration Program to view digitally or print at home and follow along during the ceremony.

Health Sciences Departments: Celebration Information
Each department will hold their own recognition or award celebration, please for more information reach out to your department directly.
Biomedical Laboratory Sciences
Presentation Space and Columbian Square at VSTC Friday, May 13th from 6:00 - 8:00 PM EST
Clinical Research and Leadership
For more information, please reach out to your department directly.
Physician Assistant Studies
GW PA Program White Coat Ceremony will be held on Saturday, May 14th at 10:00 AM in the Lisner Auditorium
Health, Human Function, and Rehabilitation Sciences
Physical Therapy Commencement Ceremony at Betts Theatre, Friday, May 13th at 9:00 AM
GW ALMA MATER
Hail Alma Mater
To thy spirit guiding,
Knowledge thy closest friend
In its strength abiding,
Pledge we fidelity
Ne'er its place resigning,
Hail thee George Washington!